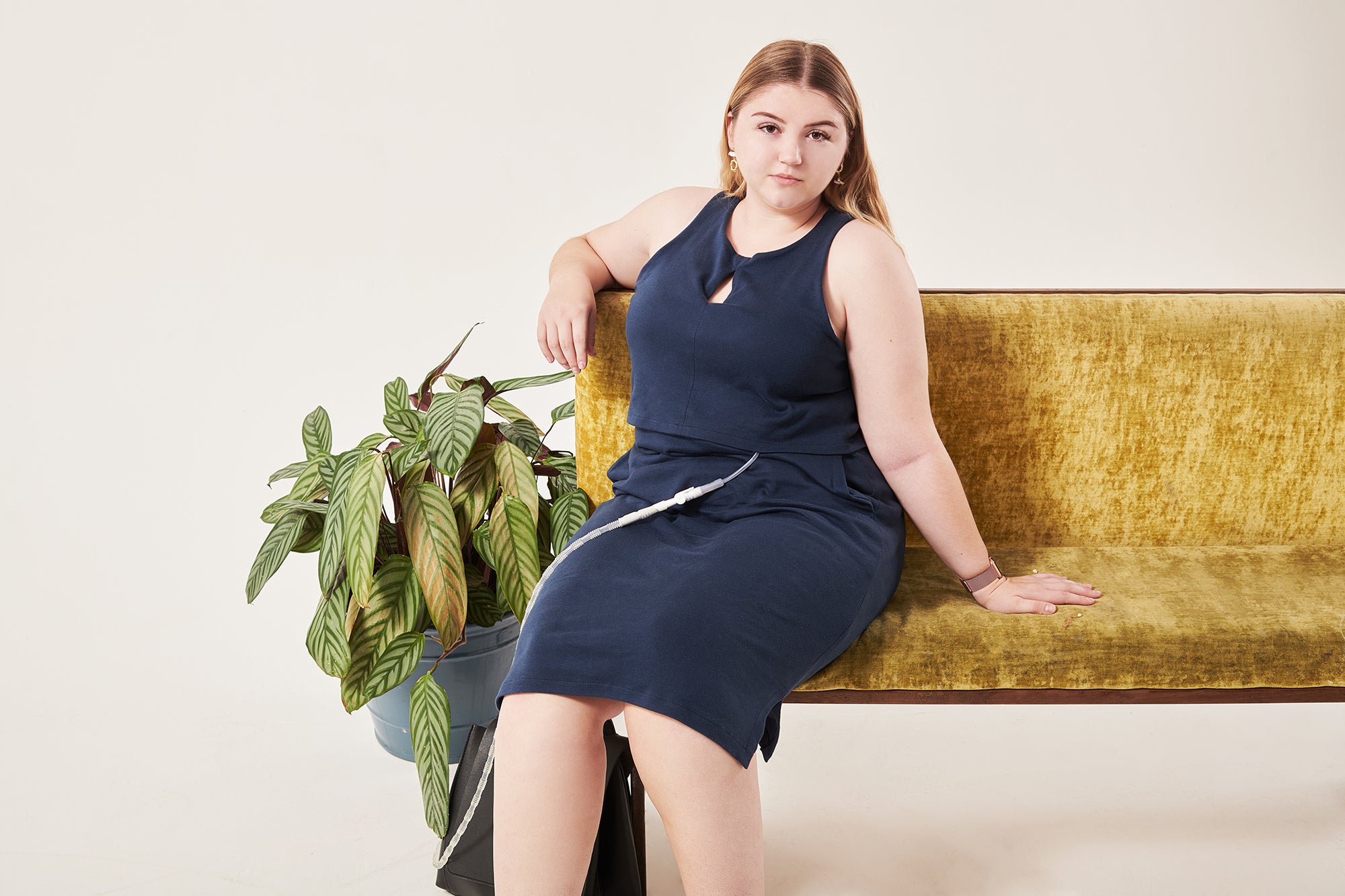 Somehow, we are now in March 2021!
Time feels like it is flying past, but it also feels like spring is arriving, and hopefully before too long we can see our loved ones again, get our treatments and procedures back on track if they have been on hold, and start to look positively to the future.We also have exciting news to share- we'll be launching a Kickstarter campaign on March 12th!!
More details to follow on the launch event itself, which is going to have some fantastic speakers- we'll be hosting it with BSL and closed captions, and it'll be a 'pay what you can' style event with any proceeds going to our dear friends Models of Diversity.
So, why launch a Kickstarter? Well, the truth is… And I'm going to drop the 'we' bit here...
I, Victoria, need a bit of help.
I need to be able to pay people to do some of the work I currently do, so I can focus on developing new designs and getting the website fully accessible and also support myself in resting and taking some breaks. Developing each design costs in the region of £1000- so you see why I have started with a small collection.
So far I have been backed by 2 friends and my Mum, which is simply incredible of them- now it's time to reach out and ask for more help so we can take adaptive clothing mainstream!
I want to be able to offer colours, prints, variety on designs.. There are more conditions I want to help, more people who's dignity and sense of style needs restoring. So keep your eyes peeled for updates, share the link when it goes live and lets all yell together and get Unhidden moving- it's not just about the clothes this is about fighting for inclusive design from others as well.
Our guest blog writer this month is our wonderful Unhidden model and ambassador Charley-Anne Gordon, and she has focused on International Womens' day (which is on March 8th) and it's a brilliant read.
EMPOWERED WOMEN EMPOWER WOMEN
For those of you who do not know me, my name is Charley-Anne. I am 23 years old, from Hertfordshire. After graduating from my law degree in March 2020, I started my PhD in January 2021. I am researching violence against women, specifically how experiences of coercive control are affected by cultural identity.
I am also disabled. I have lived with chronic illness since I was 11 years old, and I have now been a wheelchair user for 6 years. I had a suprapubic catheter tube placed in February 2020. The condition I live with is called Ehlers Danlos Syndrome, which is a connective tissue disorder that causes multi-systemic complications and co-morbid conditions.
I started sharing my journey online a couple of years ago. I soon realised that I wanted to tackle the stigma that surrounds disability, and my instagram account has led to the most amazing opportunities, including photoshoots that I never would have dreamed would happen.
When I was first diagnosed, and first starting using a wheelchair, I felt so alone. I felt like my life was over. If I had interacted with people embracing their disability and promoting body confidence at the time, I honestly believe my mental health would not have suffered as much as it did. So I am as open and honest as possible, if only to help one young person who is having their life turned upside down by disability.
As a feminist, international women's day is one of my favourite days of the year. To mark the occasion, I wanted to share some of my favourite empowered women who are actively promoting positivity, real life and confidence on their instagram feeds.
Jillian @queensofeve
Describing herself very aptly as 'the vagina fairy godmother', Jillian started queens of eve to bring awareness to gynaecological conditions that are so often dismissed by doctors, because they are 'women's issues'. In the process she helps hundreds of women feel heard, understood and part of a community. Her educational tiktoks and social media posts are just the tool that the younger generations need to empower young women to take charge, and advocate for their gynaecological health.
Flo @florencegraceuk
Flo is an icon in the self love and body confidence community. Not only does she write about her own body confidence, she regularly shares posts from other body positive icons in her instazine 'blossoming me'. She also has a podcast and sends out a regular newsletter. Oh and after becoming a first time mum to the gorgeous Jett during lockdown, she shares the raw reality of parenting, currently featuring on Delivering Babies with Emma Willis.

Jasmine @tobewanderlustofficial
Jasmine is a feminist, a photographer, content creator and co-founder of the amazing brand 'No Comment Required'. She is unapologetically real, and reminds us that perfect does not exist. Jasmine is also in recovery from an eating disorder, sharing her triumphs and bumps in the road, showing ED suffers that they are not alone. Her advocacy for mental health awareness is raw and representative of the struggles real people face every day.
Sheree @nohairdontcarexo
Sheree lives with Alopecia Universalis and has lost her hair as a result. She shares her story online, and regularly shares her baldness with confidence and pride. She has the most wonderful personality, which shines through in every post. Her positivity and confidence is inspirational for women with alopecia everywhere, whilst reminding everyone that they are beautiful, and encouraging us to embrace our differences.

Hannah @hannahpopsy1
 Hannah is a disabled doctor, feminist activist and disability advocate. She is also the deputy leader of the Women's Equality Party. Hannah frequently campaigns on issues that disproportionately affect women, and has regularly appeared on television and radio promoting intersectional equality. I honestly hope mainstream politics with the WEP is in her future, because she is exactly the kind of advocate all women need in power.
Jess @thechroniciconic
Jess is a disabled, neurodivergent, Jewish goddess. She shares the realities of living with both physical mental illness, including the reality of being an inpatient in a mental health facility with a physical disability. She strives to educate and tackle the stigma surrounding disability, including creating merchandise with the most iconic slogans, like 'disabled is not a dirty word' and 'not getting well soon'. Jess posts absolutely smoking lingerie photos, helping to prove that disability and sexiness are not mutually exclusive. She has recently partnered with both Lovehoney and Playful Promises, which is amazing because even just a year ago, lingerie companies would not have been showcasing a disabled body.
Victoria @victoria_is_unhidden
I could not make a list of inspirational women without including the founder of Unhidden herself, Victoria. Despite being disabled, Victoria is a business machine. Not only did she found Unhidden,  she is the co-founder of the brand 'No Comment Required', a garment technologist making clothing accessible for her clients, and she runs deliciously naughty virtual art classes called 'phallic fruits'. With her passion to normalise and remove the stigma surrounding disability, particularly in the fashion industry, she also always makes time to share the stories of others in the disability community.
It was almost impossible to narrow this list down to just 7 empowered women. The Instagram community really is a goldmine of body positivity and confidence, with the showcasing of 'real' bodies becoming epidemic. But these 7 women really do deserve recognition for the empowering energy they put out into the world.
As for me? I have been manifesting 2021 to become the healthiest, most successful year of my life. I hope to complete my PhD probation year, whilst also hopefully teaching more undergraduate law modules. But success to me does not just include capitalistic gains and achievements. I will call this year a success if I am able to navigate it with confidence and positivity, if I am able to work on myself to become perfectly content with who I am.  I will carry on sharing my journey online with honesty and positivity. I would love for my Instagram to open doors to more amazing opportunities, allowing me to continue fighting for the de-stigmatisation of disability, particularly in the education sector and fashion industry.
Remember that empowered women empower women, we lift each other up, and help each other to build the confidence needed to be unapologetically us.
(If you are interested in following my journey, my Instagram handle is @legallywheels)