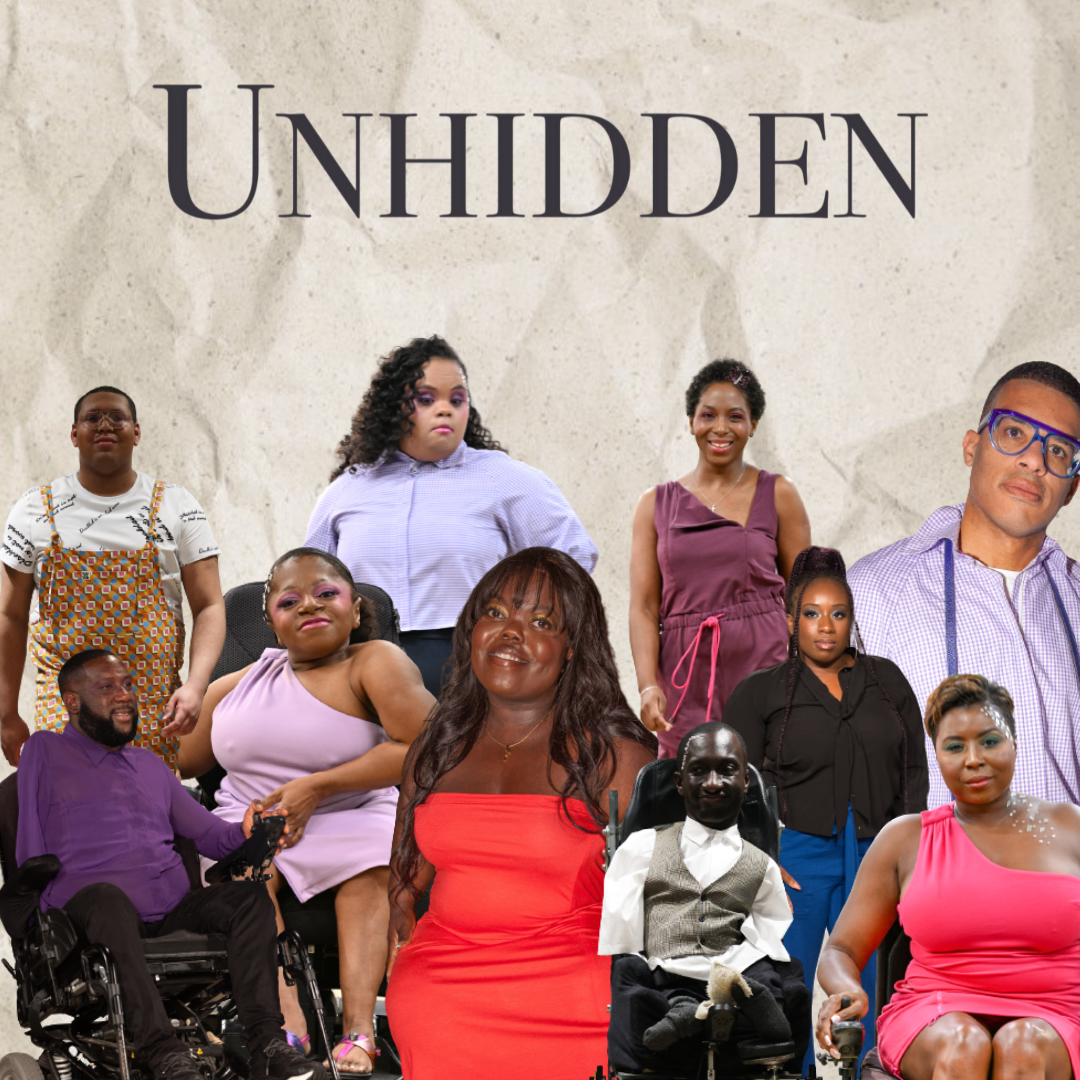 Happy Black History Month! As October draws to a close, this is the time to reflect upon what Black History Month actually means to the community from a personal standpoint. Everyone has spent this month celebrating the rich and diverse Black heritage and the contributions of extraordinary Black individuals. Even though the curtains close on this month, it is necessary to remember to extend it beyond this month to honour the community all year-round. The intersection of race and disability, particularly for Black Disabled people, is riddled with complex difficulties and unpleasant experiences. It is very important to recognise that Black Disabled individuals face a multitude of discrimination in varying levels based both on their race and disability. 
Here at Unhidden, we want to take this moment to appreciate and applaud our powerful and talented models who show up every day with their excellence! 
A Celebration of Incredible Individuals
Glen Evans
Glen Evans is the first black disabled woman to appear on the "This Girl Can" ad in the UK. This gorgeous disabled model is a disabled advocate and uses her platform to spread awareness about Amniotic Band Syndrome.
Adrian Carter
Adrian Carter is a Disabled Chef and the founder of Carters Caterers, a wonderful catering service! He is also a Cookery teacher apart from being a stunning model who rocks the runway!
Issac Harvey
Issac Harvey is an outstanding Disability Advocate and is dedicated to spreading awareness about Limb-pelvic hypoplasia! He is the president of a non profit organisation called "Wheels and WheelChairs" that is dedicated to London based skaters, rollerbladers and wheelchair users! Issac is also awarded with the prestigious MBE! 
Lee Chambers
Lee Chambers is an inspiring workplace wellbeing speaker! He is an award winning business psychologist and keynote speaker. He is the founder of PhenomGames and Essentialise Workplace Wellbeing. This impressive individual has been interviewed by Vogue, Telegraph and Guardian.
Fats Timbo
Fats Timbo is not only a dazzling model but also a famous TikTok Comedy Creator with 2.9 Million followers! She is the author of her book "Main Character Energy - 10 Commandments for Living Life Fearlessly". Her quick wit, fun spirit and disability advocacy has made her a media superstar!
Clara Holmes
Clara Evans is a fabulous lifestyle creator on Instagram who creates content on fashion, fitness and travel! This beautiful disabled model has been printed in Vogue Portugal! 
Wesley Emmott
Wesley Emmott is an Autism Advocate and an avid baker! His Instagram is decked with decadent desserts that he chefs up. He is also an engaging writer!
Monique Dior
Monique is a sensational wheelchair dancer and disabled model! She is the co-founder of Triplec - an organisation for deaf, disabled and/or neurodivergent people to have access to arts and media!
Jacqueline
Jacqueline is an astounding blood cancer advocate, who strives to bring awareness and improvement in the healthcare industry! She is a terrific woman, mother, model and actress!
Elena Turner-Thorne
Elena is a brilliant model who represents and raises awareness for Down Syndrome. She has dazzled the cover of Fluid Magazine and the face of Specsavers! She is also a fantastic actress!
Highlighting Community Achievements
We are also thrilled to see the incredible Edward Enninful has made the PowerList2024 top spot this year as his tenure at British Vogue comes to an end. Never had an editor done more to promote disability inclusion in fashion than Edward; we hope that his legacy will continue until it is normalised. 
The theme for Black History Month was announced to be "Saluting our Sisters" by blackhistorymonth.org.uk. 
The UK Parliament commemorated this by showcasing Black Women who are members of the House of Lords and recognising their accomplishments over the years!
This incredible resource pack from blackhistorymonth.org.uk, illustrates the incredible contributions of Black Women's contribution to society. 
Black History Month does not conclude at the end of October, the spirit must linger on. By educating ourselves on not only the history but also the current affairs, we can make a difference everyday! Thank you for celebrating Black History Month with our impactful Unhidden models!